PREMIUM KINDERGARTEN AT AN AFFORDABLE INVESTMENT
Being the leading international school in Tamilnadu, Anan provides a rigorous and progressive education in an international setting. Student life at Anan is a rich and vibrant experience. At Anan, academic excellence is not the only criterion; and the best students are not the sole focus either.  The founding philosophy of the school is to be child-centric; transforming a diverse cross-section of students with different talent and learning abilities into life-long achievers.
CREATING ACHIEVERS ACROSS INDIA THROUGH FRANCHISEES
After receiving great reviews and immense appreciation from the parents in Coimbatore, Anan Kids Academy is moving ahead with an ambitious aim of creating achievers across India through franchisees opening Kindergarten & Day Care Centers. For this, the Academy is looking out not just for people who look at this as a business model, but for entrepreneurs who are passionate to create achievers:
Being the brand owner, Anan Kids Academy focuses on brand consistency across its franchisees in terms of infrastructure, curriculum, unique teaching methodology and overall operations. Hence, Anan offers:
ALL ABOUT STARTING YOUR OWN PRE SCHOOL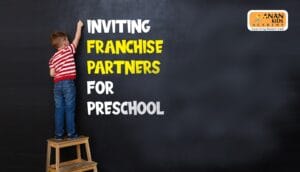 One of the leading international schools in Tamilnadu, Anan International School,...
Read More
WANT TO BE A FRANCHISE PARNTER?