Academics at Kindergarten provides children with a pace attributed to their individual needs .
To develop the ability in children to survive in the modern world we ensure holistic development by imparting learning across 9 domains – Physical and Gross Motor, Fine Motor, Sensory, Self – Help, Cognitive Development, Social Skills, Emotional and Spiritual Development.
A theme will be integrated into language, science, cognitive, social skills, music, art, drama, self-help skills and sports. The concepts are delivered using various skill based activities, projects, experiments, appropriate teaching aids and field visits. Theme based learning helps us to cater the needs of different types of learners.
Work Station style of teaching and the unique assessment pattern encourages children who learn at different levels to benefit from every session of learning without boredom or feeling overwhelmed.
Scientific evaluation will be made using assessment and confidential reports will be available to parents regularly along with a feedback on areas for change and scope for improvement.
Teachers will follow a continuous and comprehensive assessment method which will be done according to a "plan-do-review sequence" in which we design a plan, carry it out and review through assessment.
We provide extracurricular activities like Western Dance, Classical Dance, Yoga, Vocal Music and Keyboard to explore the interest of the individual child and to build confidence in a more relaxed setting that can help them with mastering new skills later in life.
Anan's curriculum emphasizes the importance of Holistic Development . Holistic approach takes a creative outlook on education and provides children with the pace of learning tailored to their individual needs. Learning is imparted through 9 specific domains, identified and structured in keeping with the tenets of holistic growth and development. Such a system is unique to Anan and is a result of sustained improvisation of teaching methodology.
Theme based learning methodology of Anan is a proven successful model since this methodology of teaching offers wide range of opportunities for skill development. It is an integrated model which has the benefits of various teaching methodologies ranging from Montessori to play -way method. Learning is imparted through work station style where children work in small groups by which learning level of children are assessed.
All the 9 specific domains are closely knit through our exclusive labs. The labs are fully equipped with subject rich content. A particular theme revolves around all the labs in different ways in order to cater to the needs of different types of learners. Teaching and Learning is carried forward in work station style where each individual is given attention.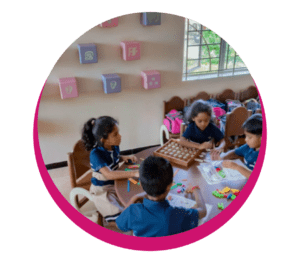 One of the most important aspects of a child's progress is the language development and that is exercised in this lab. Recitation, narration, rhymes, letter identification, phonics, reading , pre writing, writing , conversation, comprehension are the activities carried forward to mould the child in both receptive and expressive skills. Concepts are imparted through activities, projects, flashcards etc. Apart from the English language, we also teach them Tamil while covering all above activities.
Through numbers, number names, sequencing, opposites, shapes and other Math concepts we exercise the child's thinking, attention and memory skills. All the Math concepts are taught and simultaneously assessed using our unique 'SMING' model.
All these enhance the child's cognitive skills.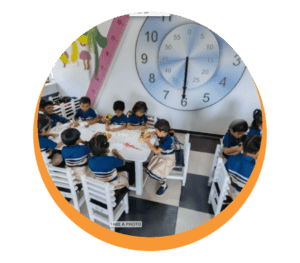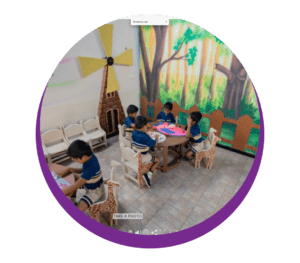 Various themes are taught through projects, experiments and field visits.Each and every theme is carefully designed and one particular theme is taught in 5 different ways through the model called 5 Es. All these activities enhance child's collaborative skills ,team work, analytical and reasoning skills.
PERFORMING ARTS & DANCE MUSIC GYM
Performing arts includes drama, theatre, musical theatre, puppetry, action rhymes, recitation etc. By involving the children in all the above activities their personalities are groomed, they become stage daring, their ability of expression is refined, creative potential is enhanced and communication skills are improved.
Children explore and identify their interests and learn new skills in Dance, Music and Gym. Their abundant energy is channelized through skill building activities like dance and music. These activities groom the children into becoming more versatile and confident individuals.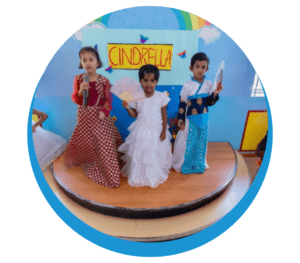 HOME CORNER & CREATIVE CORNER
In Creative Corner they learn different concepts through drawing, colouring, collage work, dabbing, scribbling etc. Art is a fine medium through which the children learn and practice skills like patterning and critical thinking. These activities exercise their finger muscles and enhance their brain development.
Home corner is a place of hands-on experience where they learn by practicing Sensory and Self-help activities. Learning and exploring through their senses are crucial for children, as it helps to build nerve connections in the brain's pathways and encourages problem solving skills.
Self – help activities help a child to become independent . Activities like buttoning, lacing, packing bags, grooming themselves etc. will be practised along with basic etiquettes which helps in making their everyday tasks easier. By practising these skills they become more confident, self-assured and self-reliant.
The basic computer skills are introduced in this lab. Here children are exposed to audio visual representation of information about the theme, thus making the process of learning more interactive and interesting. Computer aided education adds more fun element to learning